Christmas Continental Market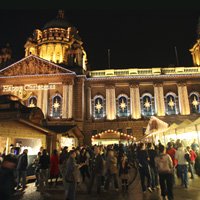 The hugely popular Christmas Continental Market returns to Belfast City Hall from Wednesday 19 November to Saturday 20 December.

Once again the grounds of Belfast City Hall will come alive with dozens of market stalls offering a stunning range of crafts, food and decorations from across Europe, and beyond, to delight the Christmas shopper seeking original gifts.

Monday to Wednesday: 10am - 8pm
Thursday to Saturday: 10am - 10pm
Sunday: 1pm - 6pm

For more information click here

Belfast Cathedral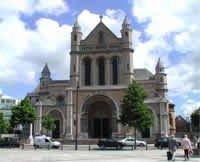 The main section of the Hiberno-Romanesque building was consecrated in 1904. Various parts have been added since. The Cathedral contains mosaics designed by Sir Charles Nicholson and executed by Gertrude and Margaret Martin. There are sculptures by Rosamund Praegar and Maurice Harding.

The Cathedral has the largest Celtic Cross in Ireland, and mosaics and stained glass on Celtic themes. The Cathedral Choir sings on Sunday at 11.00am and 3.30pm (excluding July and August).

Open Daily. Admission FREE
Belfast Castle




On the slopes of Cave Hill, it is a great place to sample excellent cuisine, historical atmosphere, beautiful gardens and friendly service.

Don't miss the nearby Cave Hill Visitor Centre and Country Park.
Belfast City Hall




A fine example of Classical Renaissance style, this Edwardian masterpiece (1906) of Portland stone is the home of Belfast City Council. As part of a major renovation programme, the building is temporarily closed to the public. It will re-open in late 2009. The grounds remain open as normal. Events such as Remembrance Sunday, the Christmas Lights Switch On and the hugely popular Christmas Continental Market will all go ahead as usual.
Belfast City Sightseeing Bus Tour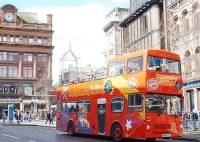 We operate on a daily basis from Castle Place, right in the heart of Belfast City Centre. (Opposite McDonalds Restaurant).

Offering visitors the best way to see Belfast, our open top buses provide you with the best view of the city.

Don't worry if it's raining, we have covered buses for that eventuality!

We operate seven tours per day during low season and eleven tours per day during high season. Departing daily from 9.30am during the High Season (May-Sept) and 10am all year round, visitors can avail of our frequent departures and use our Hop-on, Hop-off service to get full value from your ticket, which is valid all day on date of purchase.

Our tours cover:
Belfast City Centre
Titanic Quarter
Cathedral Quarter
Political Districts (Wall Murals/Shankill Road/Falls Road)
University District
Nightlife Areas (Pubs/Clubs/Restaurants)

Each of our tours features a live commentary supplied by a lively and educated local guide, and is always good craic!

Schedule:

September - May:
10.00am – 11.00am – 12pm – 1pm – 2.30pm – 4pm

May - September:
9.30am – TOUR EVERY 30 MINS – 4.30pm

Our bright red buses are available for private hire so if you have a big group, don't hesitate to contact us on 028 9062 6888 to arrange a group discount or private booking.

We also offer special tours to Stormont Parliament Buildings and seasonal tours such as our Halloween Ghost Tour and Festive World famous Santa Bus during December. Check out www.belfastcitysightseeing.com for further details.
Belfast Hills




The Belfast Hills Partnership encompasses all the sites which let visitors experience the Belfast Hills, renowned for providing a unique backdrop to a thriving urban area. Being so close to the city, fantastic views over Belfast and beyond can be easily enjoyed at Cave Hill and Belfast Castle or Black Mountain. A short walk from our streets can take you into the river valley paths at Colin Glen or up through the old Carnmoney Hill woodland. If you really want to get some fresh air, the upland heath and wildflowers of Divis or Slievenacloy are a must.

Travelling from Black Mountain on to Divis walkers are rewarded with spectacular views of Belfast Lough, the Castlereagh Hills, the Ards Peninsula, the Isle of Man, Scotland, Slieve Gullion, the Mournes and Carlingford Mountains on the one side, and on the other the Sperrins, Antrim Plateau and Lough Neagh. The Samson and Goliath cranes, the Hospital Tower Block, The King's Hall and the Stormont Parliament Buildings are all easily visible.

The Belfast Hills are thought to be inspiration for Jonathan Swift's "Gulliver's Travels" as the hills are the embodiment of a sleeping giant safeguarding the city.

The Belfast Hills have six main sites which are open to the public:

1. Carnmoney Hill
2. Cave Hill Country Park
3. Divis and the Black Mountain
4. Slievenacloy Nature Reserve
5. Glenside Community Woodland
6. Colin Glen Forest Park

Before you go check out the Hills Walking Code. This code provides general guidelines on how to look after yourself and the environment when out in the Hills.

N.B. All directions are given from the centre of Belfast.
Belfast Zoo





On a fifty acre site with panoramic views over the city and Belfast Lough, this modern world class zoo acts as a safe haven for over 160 species of rare or highly endangered animals housed in award winning enclosures which replicate their natural environments. Don't miss the monkey park, gorillas, free-flight aviary and underwater viewing of penguins and sea-lions.

Restaurant, snacks, shop, children's playground, free parking and disabled facilities.

Group Bookings and Discounts available, please telephone for details or check the website www.belfastzoo.co.uk
Parliament Buildings, Stormont




Stormont is a public park which remains open until 7.30pm. Pedestrians can walk from the main gates to the statue of Carson, along the Prince of Wales Avenue and can also enjoy the glen walk and visit the excellent facilities at the children's playground.

Visitors to Parliament Buildings are welcome to view the Great Hall however guided visits for groups must be sponsored, in advance, by an Assembly Member.
The Belfast Wheel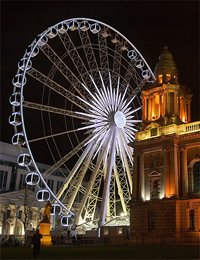 Belfast has its own version of the London Eye. Located at the east side of Belfast City Hall, the structure offers spectacular views across the city from a height of 200 feet.
Botanic Gardens




The world-class Botanical Gardens, with its great greenhouses and glorious herbaceous walkways, formal bedding and shrubberies.The restored Palm House (1852) is a masterpiece of moulded glass and wrought iron, displaying exotic trees and flowering plants. The Tropical Ravine (1889) features a humid jungle glen plus a fish pond dominated by giant waterlilies.
Queens University, Belfast




Northern Ireland's leading University, celebrating 100 years this year.
Grand Opera House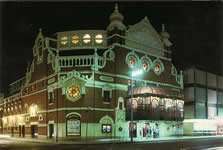 Architect Frank Matcham's late Victorian masterpiece has recently reopened following a £10M extension and development programme and remains Northern Ireland's premier theatre, bringing world-class entertainment including theatre, musicals, opera, ballet, comedy, concerts and pantomime.

New facilities include Luciano's eaterie, The Phoenix Gallery, four new bars, wheelchair access to all levels and The Baby Grand, a new 100 seater theatre.

Theatre tours can be booked through the Box Office on 028 9024 1919.
UK Winner of Barclays/TMA Most Welcoming Theatre Award.

Website: www.goh.co.uk
Linenhall Library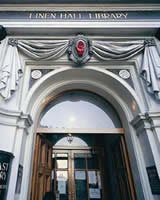 The Linen Hall Library is a unique institution specialising in Irish politics and culture. Founded in 1788 it is the city's oldest library, but offers the visitor much more. Facilities include a new coffee house and an extended retail line of prints and gifts, all available in this superbly refurbished building.

Booking: Places should be booked in advance through the library in person or by phone, tel: 028 9087 2214 or 028 9087 2200.

Details: During your free tour, an experienced member of staff will tell you about aspects of the Library's tumultuous history including:
- the Library's role in the 1798 United Irish Rebellion
- the Library's place in the development of Belfast
- Hangings, Embezzlement, Eviction... and more!
St George's Market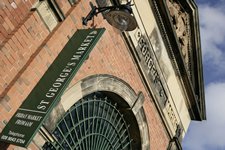 If you want to enjoy a real taste of Belfast, visit St. George's Market. One of the most colourful and vibrant destinations in Belfast, St. George's Market has been voted one of the UK's best markets in the prestigious Observer's Waitrose Food Awards 2004.

The Friday Variety Market opens at 6am every week and runs until approximately 1pm. This is a hugely vibrant retail experience of 248 market stalls selling diverse wares from apples to zips and antiques to shark meat. The fish section alone contains 23 fish stalls and holds the reputation for being the leading retail fish market on the island of Ireland. It is this eclectic mix that attracts thousands of 'punters' to probably the best market in Northern Ireland.

The City Food & Garden Market takes place in St. George's every Saturday from 9.00am until 3.00pm. Enjoy the best food taste and smells brought by local producers, including ostrich from Ballyclare, beef from Armagh, free range eggs from Limavady, venison, pheasant in season and local organic vegetables from Culdrum Farm. Added to these local delicacies the market now offers a huge range of continental and speciality foods such as wild boar, continental cheeses and cured meats, coffees from around the world, olive oils imported directly from Italy with traditional French Crepes and extraordinary French pastries to mention just a few.

Cookery demonstrations are provided on the 1st Saturday of each month by Michelin Star Chef Michael Deane from 12.00 noon. Customers can also sample the products; relax with a coffee and a newspaper against a backdrop of live jazz or flamenco music. Added to this plethora of tempting foods the Saturday market also encompasses a flower section with some of Northern Ireland's leading florists ensuring this Saturday market is a kaleidoscope of colour. This market is a real Saturday treat.

A free market bus runs every 20 minutes between the City Centre (outside Boots the Chemist, Donegall Place or HMV, Castle Place) and the market. Bus departs 8am on Friday and every 20 minutes thereafter. Bus departs 9.00am on Saturday and every 20 minutes thereafter.

Subsidised Customer Parking on a Friday at Stewart Street Car Park. £1 per 2 hours.
Subsidised Customer Parking on a Saturday at Hilton Car Parks. £1 per hour. Max charge £5.00.

Friday Variety Market Fri 06.00 – 13.00
The City Food & Garden Market Sat 9.00 – 15.00
Ulster Folk and Transport Museum




The Ulster Folk and Transport Museum is one of Ireland's foremost visitor attractions illustrating the way of life and traditions of the people of the North of Ireland.

The exhibit buildings of the Folk Museum include appropriately furnished houses, mills, shops, schools and churches set in a carefully recreated landscape extending over 60 acres. This provides the setting to present the story of life in Ulster in the early 1900's through costumed interpretation and a varied programme of activities, crafts and skills.

The award winning galleries of the Transport Museum display Ireland's most comprehensive transport collections from horse drawn cart to Irish built motor cars, from the mighty steam locomotives which graced our railways to the history of ship and boat building.

Entrance Fee:
£5.50 adults, Children (5-18 years) £3.50, Under 5's Free, Concession £3.50.

Website: www.uftm.org.uk
Sir Thomas and Lady Dixon Park and City of Belfast International Rose Garden




Sir Thomas and Lady Dixon Park lies on the southern outskirts of Belfast and is one of the outstanding areas within the Lagan Valley Regional Park consisting of one hundred and twenty eight acres of meadows, copses, woodland and gardens. It is one of the most popular parks in Belfast, attracting thousands of visitors each year to see the International Rose Garden and the rhododendron displays, listen to a band concert, use the children's playground or simply to relax in the tranquil surroundings.

Wilmont House was built in 1859 by James Bristow and after changing hands several times it came to the Dixons in 1919. Lady Dixon died in 1959 and she bequeathed the estate 'for the greatest good of the citizens of Belfast' in memory of her husband, Sir Thomas Dixon.

The City of Belfast International Rose Garden is amongst the world's leading rose gardens and in 2000 received the prestigious Plaque of Merit. Each summer over forty-five thousand rose bushes are in bloom creating a fusion of colours.

Each year roses are sent from breeders throughout the world for trial at the park. Local experts judge these over two or three seasons, and an international panel carries out the final judging each July.

Whilst meandering through display beds savouring the array of scent, colour and form, you can also follow the story of the rose in the Historical Section, see the best of local roses in the Irish Heritage Section or enjoy a moment of contemplation in the Princess Diana Memorial Garden.
The International Rose Garden between July and September is a spectacular sight and one not to be missed.

In the quieter regions of the park you can explore the wild flower meadows and woodland. You may even glimpse foxes, badgers, red and grey squirrels.

Other attractions in the park include the Japanese Garden, a walled garden, the Golden Crown Fountain commissioned in 2002 as part of the Queen's Golden Jubilee celebrations and several outdoor sculptures.

Band concerts take place from May to September as part of the Music in the Park programme organised by the Parks and Amenities Section.

Rose Week is a popular annual event in July with competitions, music, plant and craft stalls, entertainment and demonstrations in and around the rose garden. Admission free.

Park opening hours: open every day from dawn to dusk. Admission free.
The Odyssey Arena and Pavilion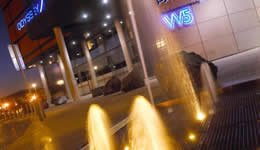 Ireland's largest all-seater indoor venue has permanently changed Belfast as a city for world-class entertainment.

Home of the Belfast Giants, the venue has been highly praised by many, including former President, Bill Clinton. Close proximity to the city centre, ferry terminals, motorway network and the City Airport, make Odyssey Arena the 'must-visit' venue for anyone coming to Northern Ireland. Odyssey, Belfast's Landmark Millennium Project, has firmly established itself as Northern Ireland's premier entertainment and leisure facility.

Odyssey is home to Ireland's only 2D and 3D IMAX® Cinema, as well as a 14 screen Storm Cinema Complex, a 20 lane 10-pin bowling centre and W5, the interactive Discovery Centre which will fire the imagination of people of all ages.

From Indian to American, Odyssey offers a vast selection of restaurants, allowing you to taste the various cuisines of cultures from around the world.

At night, adults can take advantage of the various bars and nightclubs on offer at Odyssey, some proving to be of great interest to local and national celebrities.

Odyssey is open from 9am to 1am, please contact individual units for opening times, as these will vary.

Website: www.odysseyarena.com
The Waterfront Hall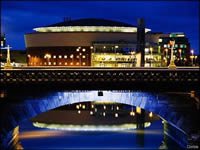 Open Monday-Saturday 10am-5pm. Closed Sunday and Bank Holidays except for performance days.

Northern Ireland's premier conference and concert centre. The flexible seating (capacity 2,235), highly praised acoustics and warm atmosphere make the Main Auditorium perfect for world class shows, award ceremonies, gala dinners and conferences, while the Studio provides an intimate setting for music, comedy, theatre and corporate events.

The Hall also runs a programme of temporary visual art exhibitions and arc brasserie serves coffees, snacks and lunches daily, plus dinner on performance nights.

The Waterfront Hall offers entertainment to whet every appetite. Call in to pick up a free Waterfront Guide or to book show tickets.

Website: www.waterfront.co.uk
Albert Memorial Clock




Leaning 1.25 metres (4 feet) off the vertical, the Clock's unsteadiness is due to the fact that it was built on land reclaimed from the river. The tower is 35 metres (113 feet) high and centres around Prince Albert, Victoria's consort. Crowned lions holding shields and floral decoration surround the clock itself. Also designed by Barre in Belfast: Bryson House, Bedford Street.
Custom House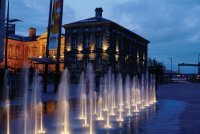 A noble building. Take a good look all round it. You'll see figures of Neptune with his anchor and dolphin, Mercury with a sheaf of corn at his feet; Brittania with her trident and royal shield; and winged figures representing Manufacture, Peace, Commerce and Industry. The writer Anthony Trollope worked in the Post Office here until his departure from Ireland in 1859. In the 19th century, orators carried forth outside. One, Frank Ballantyne, denounced "pingpong and other helleries". Also designed by Charles Lanyon in Belfast: Queen's College; University Road, Union Theological College, Botanic Avenue; Palm House, Botanic Gardens; Belfast Castle, Antrim Road; Northern Bank, Waring Street. Also designed by W.H. Lynn: Belfast Public Library, Donegall Square North; Memorial Methodist Church, Carlisle Circus.
The Gasworks




The Gasworks fuelled Victorian Belfast's rapid industrial growth. Its profits were the major source of funding for building the City Hall. It closed in 1988. Belfast City Council and the Laganside Development Corporation then undertook to create public gardens with commercial office space. The new entrance, flanked by sculpture columns depicting 'Belfast Industry; past and future', at the centre of the original radiating walkways, symbolises continuity between an industrious past and an exciting future. Historic buildings retained include The Administration Building with its fabulous stairway, and the Clock Tower, Meter House and Klondyke Building.
Samson and Goliath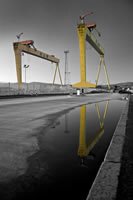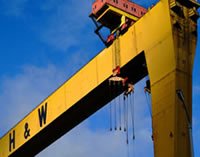 Queen's Rd. 1960s The famous cranes are the centre of the shipbuilding company, Harland and Wolff. Each has a capacity of 840 tonnes and London Bridge would look minute beside them. Harland and Wolff once employed up to tens of thousands of people and built the great ship, Titanic.
CS Lewis Trail




Like the landscapes of Narnia, the streets of C.S. Lewis' beloved Belfast can lead to places which surprise and delight. Whether exploring the established cultural landmarks of the Queen's and Cathedral Quarters or looking forward to the exciting development of the Titanic Quarter, visitors can discover the locations and landscapes that shaped and inspired C.S. Lewis' love affair with Belfast.