Some of the many pubs and clubs in Belfast...
Crown Liquor Saloon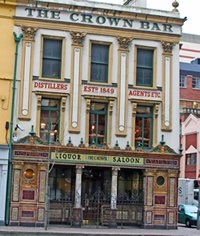 A great place for thirst-quenching in historical surroundings, this splendid gin palace, built in 1826, is one of the best-known landmarks in the city.

Its ornate Victorian exterior and delightful interior decor make it one of the National Trust's greatest treasures.

Great food and the only bar in the world where an Internet web-cam operates in a gas-lit bar!

The Crown Bar has been placed in the 'best place to drink' category in the Observer Food Monthly magazine.

Website: www.crownbar.com
Merchant Hotel/ Ollie's Bar/ Cloth Ear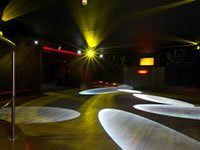 The Merchant Hotel prides itself on the calibre and variety of its excellent bars and club. From the elegance and opulence of The Bar, to the relaxed and comfortable Cloth Ear. From the glamour and sophistication of Ollie's Club, to the retro chic of The Private Resident's and Member's Bar, The Merchant Hotel offers entertainment to suit your every mood.

Website: www.themerchanthotel.com
Apartment Bar




This hip and extremely funky style bar has brought sophistication and class to the epicentre of Belfast. Open from early morning for breakfast, with casual dining on offer all day and laid back lounge grooves in the evening. Enjoy.

Website: www.apartmentbelfast.com
The Northern Whig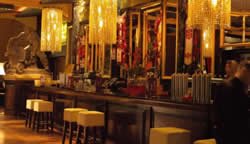 The Northern Whig's foundation stone was laid on St Patrick's Day, 1819. Built as a high-class commercial hotel with merchants' reading rooms. The Irish traditional music enthusiast, Edward Bunting, met friends there to play Haydn and Beethoven's music. Later used as offices for The Northern Whig newspaper. Blitzed in 1941 during the Second World War. Refurbished in 1997, and now home to the trendy Northern Whig bar.

Website: www.thenorthernwhig.com
Club Mono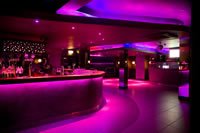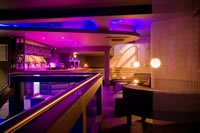 Just a stones throw from the River Lagan and Belfast's new Victoria Square recently rennovated
Club Mono is the perfect place to lounge, or dance the night away. Over two floors the décor is
Urban Chic but with just the right amount of personality and attitude to give it a unique and distinct
ambience.

Website: www.monobelfast.com
M Club




The dazzling jewel and pride of Bradbury Place. M-Club has established itself as a student haunt on Thursdays, a 70's party on Fridays and the ultimate Club night on Saturdays.

Its unpretentious style and commitment to having fun makes it a great place to be.

Website: www.mclub.co.uk
The Box




The massive new nightclub in Belfast with all the right angles now open at Odyssey Pavilion.
Be there... and be square!

Website: www.theboxnightclub.com
Spring and Airbrake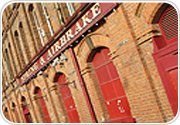 Opened in Oct 2004 and now firmly established as one of Belfasts premier music venues.The Spring & Airbrake has already hosted acts such as Hard-Fi, Gomez and Athlete,to name but a few.

Website: www.the-limelight.co.uk
McHugh's Bar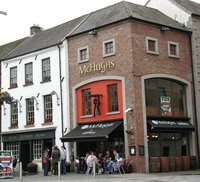 Belfast's oldest surviving building. Built as a dwelling house on the Town Dock (long since gone), by the edge of the Belfast River. The river was filled in in 1846, and Queen's Square was laid out for Victoria's visit in 1849. Opened in 1998, following extensive restoration, and is now one of Belfast's trendiest bars and restaurant.

Website: www.mchughsbar.com
Rockies Sports Bar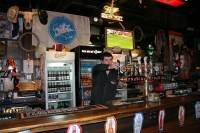 Northern Ireland's first Canadian sports bar has opened its doors at the magnificent Odyssey Pavilion.

Rockies celebrates the past and present achievements of sporting heroes from both North America and Northern Ireland. From Canadian ice hockey great Wayne Gretzky to Northern Ireland football legend George Best Rockies houses an array of sports memorabilia that is guaranteed to interest sports fans from around the globe. Signed photos, game used equipment and match worn jerseys are just some of the items on display.

Also featured is a section dedicated to the Belfast Giants Ice Hockey Club which holds a vast collection of their history. Be sure to check out our wall of fame featuring photos of famous Irish born players in North American sports.

The John Hewitt Bar and Restaurant




This traditional Belfast bar, with it's marble counter, high ceiling and open fire, is in the heart of Belfast's Cathedral Quarter.

Established on a policy of no Television, Jukebox or gaming machines, it's clientele includes artists, journalists, trade unionists and writers.

The John Hewitt's lunchtime menu is featured in The Bridgestone Foodlovers Guide To Ireland.

Website: www.thejohnhewitt.com